Stucco House Washing

Stucco's textured finish invites dirt, debris, and grime to easily settle into it's pores. The most common stains on exterior stucco are dirt, mildew, mold and algae. If you spray stucco with high pressure you will cause damage. Damages to stucco appear as etched (wand marks) depressions in the finish. Never use high pressure tips when cleaning stucco. Spraying liquid chemicals at a safe low-pressure will effectively remove years of grime off your home. Once the mold starts it rapidly spreads and eventually will cover your entire Home! Mold growing on your walls, soffits, and gutters has the ability to spread to all elevations. In most cases the spread takes place over a few months.
Vinyl Siding House Washing


Vinyl siding mold growth is more accelerated due to its design. Often times a single strip of siding will run horizontally the entire length across an elevation. The cost savings design eliminates the requirements for control joints/reveals/or visual breaks. Mold spreads faster since there are no obstructions along its path. Morning dew that generates everyday allows the mold to carry along the face of your siding.
Coquina House Cleaning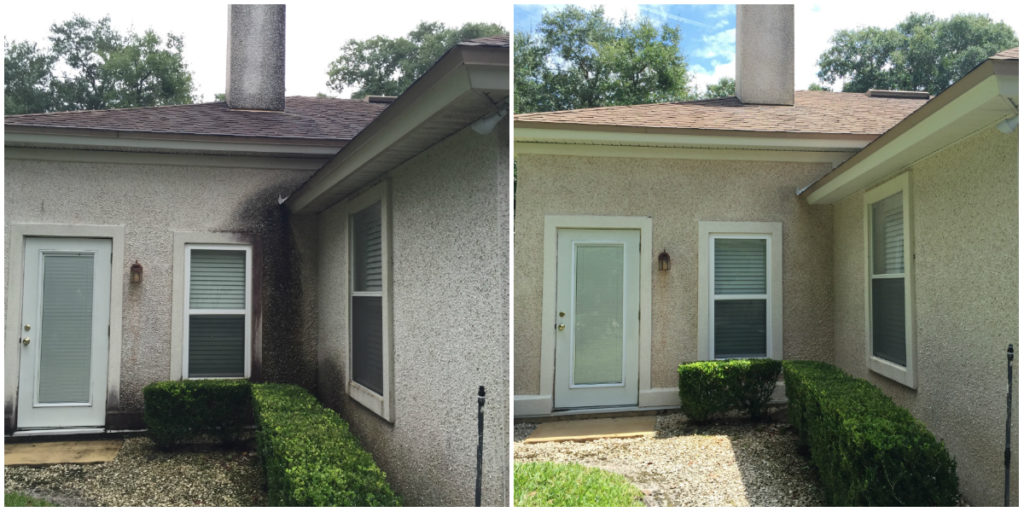 Common coquina is a very soft exterior finish used in construction for over 400 years. In addition coquina can be very appealing, but it shows dirt and mold from a mile away. This stuff is extra brittle and damages by simply spraying it with your garden hose. Due to its nature coquina is very porous and the mold grows very deep into its finish. We utilize diaphragm pumps to carry stronger chemical concentrates in order to adequately clean coquina. Always remember to ask your professional pressure washing contractor if they have cleaned coquina before. Do not hesitate to ask them to send you some before and after pics of jobs they have cleaned in the past.