Your roof serves a very valuable purpose. It provides your family and/or tenants protections from the elements of sun, wind, and rain. It also contributes greatly to your curb appeal. We clean just about every type of roofing substrate in Saint John's, FL. including asphalt shingle, clay (terracotta) tile, cement tile, metal roofing, concrete tile, and T.P.O. Membranes. Our roof cleaning services will eliminate dirt, dust, grime (nutrient base for the growth of mildew and mold) including removing those black streaks that are staining your roof. Those black streaks or stains are a bacteria know as Gleocapsa Magma. Check out the chemically softwashed area just above the ladder in the picture below.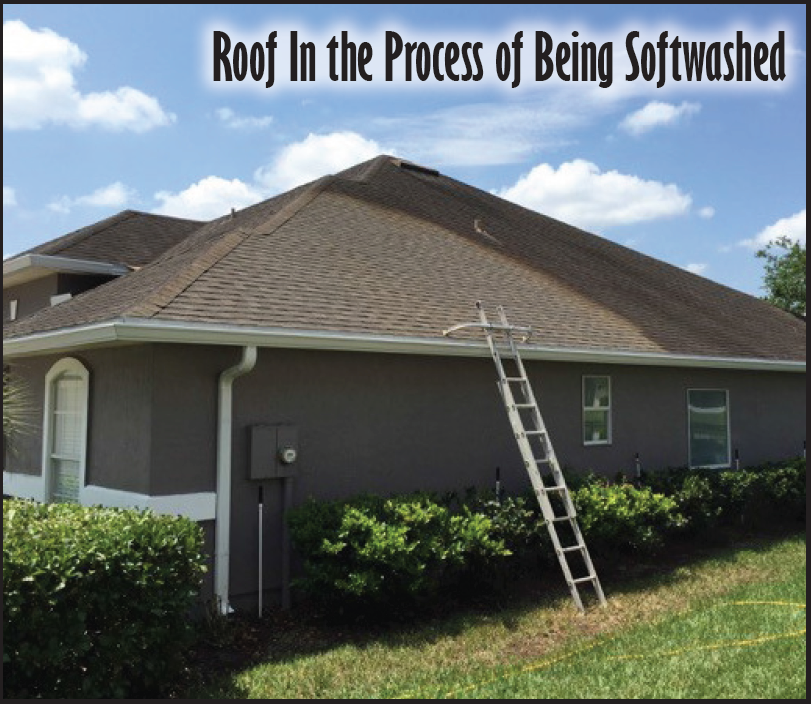 Over time, the integrity of your roof will diminish if you leave it dirty with visible stains. Moss and lichens will start to grow rooting down into your sheathing. These biological invaders are feeding on your roof and if improperly maintained will shorten its life span by several years. Still need reasons why you should softwash your roof? How many of us want to replace our roofs earlier than anticipated? The algae, mold, mildew, bacteria, lichens and moss directly decompose/break down roofing materials. Hiring a professional Softwashing company like The Pressure Kru, Inc. could ultimately save you more money in the future.
Insurance Coverage Loss
If you are a resident of Florida you know all about home owners insurance policy rates doubling if not tripling. Hurricanes are constantly hammering our homes or businesses and most providers just want out. Recent information going around is (unless you have a cash buyer) that if you are selling your home with a roof older than 12 years it has to be replaced by the seller before actually selling the home. Some insurance companies will discontinue your insurance policy simply because your roof has not shown preventative maintenance. Cleaning your roof could save you a lot of time and stress in the future. New roofs come with a roofing warranty. This is great to have in case of an accident or improper installation. Unfortunately, it does nothing to help you keep your roof clean. Most roofing warranties come with strict guidelines that to ensure your warranty is not void.
Roofing companies will null your warranty due to damage done by high power pressure cleaning. It is crucial to qualify your roof cleaning company to make sure that your roof is properly cleaned without the risk of losing your warranty. This is a great reason why you should softwash your roof by a professional.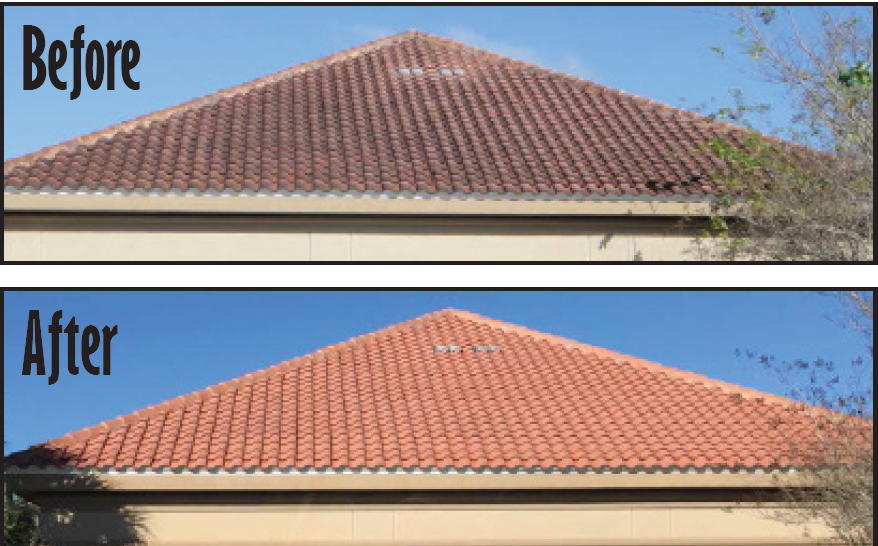 The Power of Softwashing
In the professional roofing industry, it is a fact that soft washing is the best solution for cleaning a roof. Softwashing is a gentle form of cleaning which does not involve using a pressure washer. Soft washing is the act of applying bio-degradable eco-friendly chemicals to clean your roof and your home's exterior. This solution sinks into the cracks and pores of your roof and destroys the mold and mildew at the core without damaging your roof system. The low pressure chemical soft washing application process ensures the safety and longevity, not to mention it keeps your home or business curb appeal looking its best.
Read more about the basic concepts of roof cleaning here